July 13, 2010
Posted By - Frank Murgia
Source Credits - The Huffington Post/David Bauder, Getty Images
---
The End Of Late-Night?
Late-Night Ratings Fading .. 'Twilight Of Their Days As Late-Night TV Kings'
NEW YORK — Jay Leno and David Letterman are in the twilight of their days as late-night TV kings, and it's not clear that any late-night comic will wield that kind of broad influence again.
Late-night ratings sank over the past three months, despite the attention and extraordinary television created over the winter by the drama of Leno taking back "The Tonight Show" from Conan O'Brien.
"Late-night talk shows have been around since the 1950s, and you wonder if they are getting passe with the viewing public," said Brad Adgate, an analyst with Horizon Media.
Competition is a factor. Johnny Carson in his prime never had to worry about a Jon Stewart or George Lopez. Or video games and the Internet. Or, for that matter, his own network. At 11:35 p.m., more people now watch programs saved on their digital video recorders than either Leno and Letterman, the Nielsen Co. said.
Back at NBC, Leno averaged 4 million viewers a night during April, May and June. That's a full 1 million viewers lost to NBC compared to the same three months in 2009. Letterman wasn't necessarily the beneficiary, since his audience of 3.3 million people was off 7 percent from 2009.
This Story Continued, Read More HERE at The Huffington Post.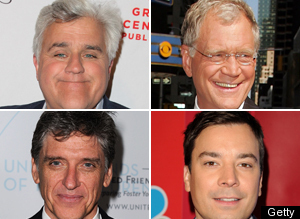 Join the Social Media Revolution
Follow talent network news on Twitter, Facebook, Youtube and for Party Planning Help and to Hire Entertainment contact talent network, inc